National Standards for Service Dogs
National standards will soon be set for service dogs that assist veterans with mental health conditions such as post-traumatic stress disorder (PTSD).
Erin O'Toole, Veterans Affairs Minister, made today's announcement during a visit to the National Service Dogs House and Training Centre in Cambridge, Ontario.
"We expect this work will confirm what veterans have been telling us about the benefits of psychiatric service dogs, how these dogs have improved their quality of life," said O'Toole.
National standards will help to ensure consistency across the country for psychiatric service dogs. The Canadian General Standards Board (CGSB) will lead the development of the standards in consultation with veteran's groups and psychiatric service dog training providers.
During the visit, Minister O'Toole also provided an update on the work being done to better serve veterans and their families who are living with mental health conditions, including the ground-breaking research into the effect of psychiatric service dogs on veterans with PTSD.
Psychiatric service dogs are trained to help a person with a mental health condition by performing tasks in response to a cue.
A constant companion, these dogs can help their owner manage many common symptoms of PTSD, and guide them away from stressful situations. They can also provide physical support if their owner loses his or her balance.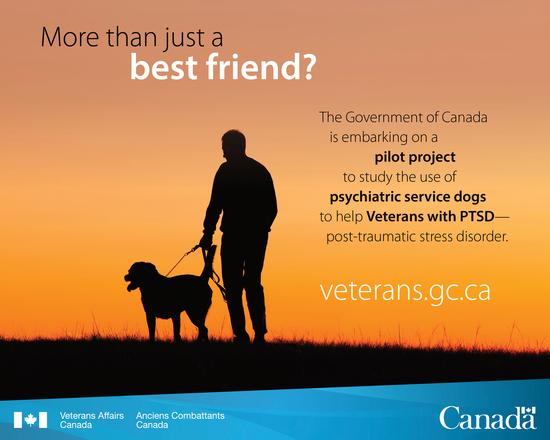 "The Government of Canada is committed to supporting research to achieve better outcomes for veterans with PTSD and other mental health conditions," said O'Toole.
Up to $340,000 in funding has been approved to set national standards for service dogs.
The pilot research, which will include up to 50 Canadian veterans with service dogs, is being funded with $500,000 and is expected to be first class and ground-breaking. The research could help set standards of veteran service dogs and their certification in allied countries.
The Minister also highlighted the extensive network of mental health clinics and service points to assist veterans from coast to coast and the 24-hour hotline providing immediate psychiatric assistance for all veterans and their families.
VAC and DND, together, have a network of 27 specialized mental health clinics where individuals can be served in person. Operational stress injury clinics provide full assessment, diagnosis and treatment services for veterans and their families who are living with operational stress injuries, including PTSD.
Veterans and their families can receive immediate mental health counselling with a professional over the phone 24 hours a day, seven days a week by calling the toll-free assistance line.
Get More! Receive six issues of Canadian Military Family Magazine in your mail box for only $17.95! Click here to subscribe NOW!