COVID-19 Rundown April 17th, 2020
As of today, Friday, April 17th, 2020, Canada recorded its worst day of the pandemic with more than 1,700 new cases, the total number registered now being 31,927, with 1,310 deaths.
At the daily briefing, Prime Minister Justin Trudeau mentioned that 125 Canadian Armed Forces members with certified training in the health field, will lend a hand across Quebec long-term care homes.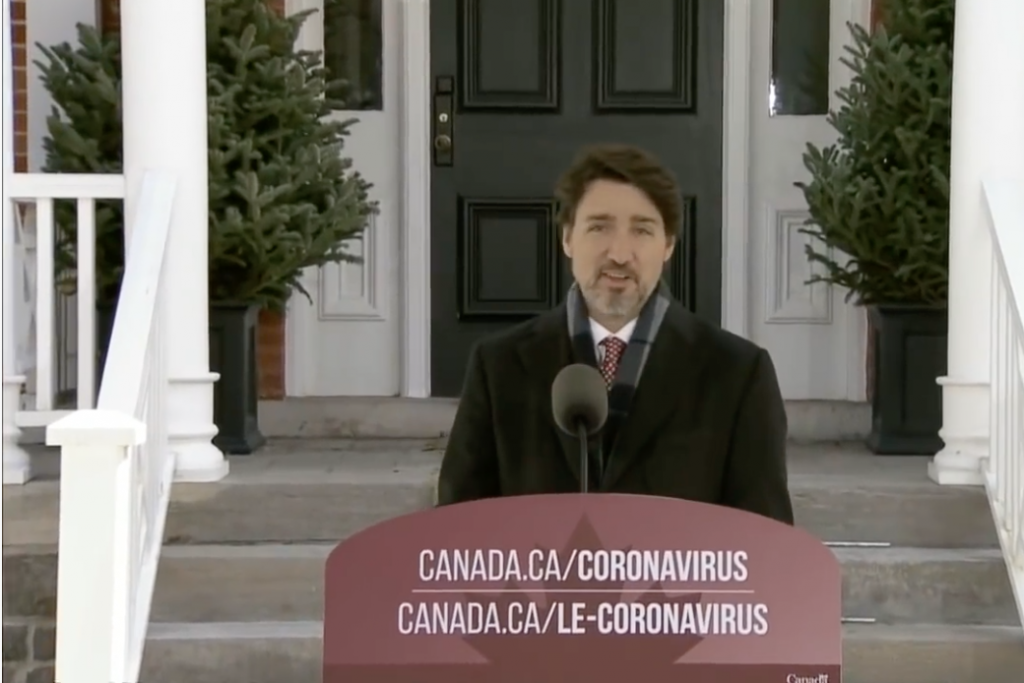 He also announced new measures to support Canada's arts, culture, sports and energy sectors, including $1.7 billion to clean up wells in Alberta, Saskatchewan, and B.C. This will help save over five thousand jobs in Alberta alone.
A $750 million new emission reduction fund plan will also be created by the federal government to help the provinces fight methane emissions. Of this amount, $75 million will go to oil companies in Newfoundland and Labrador to help them reduce their emissions.
The government estimates that approximately 10,000 jobs will be saved in the oil sector as a result of these two measures.
You can find below the provincial COVID-19 rundown:
British Columbia
Adrian Dix, Minister of Health, and Dr. Bonnie Henry, B.C.'s provincial health officer, have issued a joint statement regarding updates on the novel coronavirus (COVID-19) response in British Columbia. By today, there are 1,618 coronavirus confirmed cases in BC, with 78 deaths.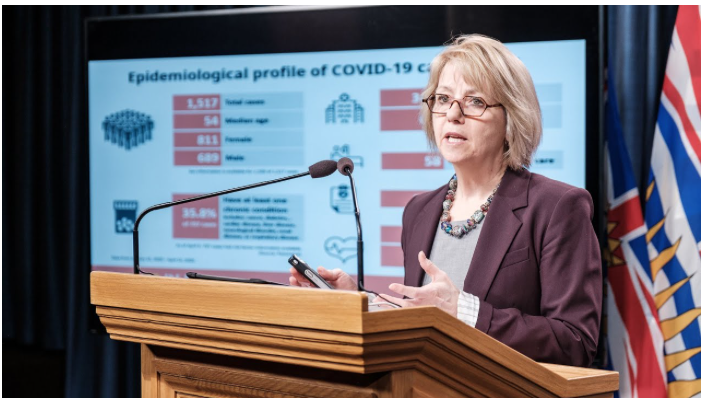 The number of reported cases today is the lowest it has been since mid-March. There have been 31 outbreaks in care facilities and in other settings, of which 27 are ongoing.
Currently, in critical care, there are 56 people and recovered 983.
British Columbians who are affected by the COVID-19 pandemic can rely on income supports, tax relief, and direct funding for people, businesses, and services, as follows:
Income support for people facing job loss or reduced income and for people who are sick, quarantined or must
Stay home to care for children;
Support for people who use public transit;
Transportation and ferry safety;
Support for renters, homeowners, and people experiencing homelessness;
Support for people with student loans;
Support for post-secondary students;
Support for people and businesses unable to pay monthly bills;
Support for people on income assistance
Keeping kids learning during in-class suspensions
Support for families with children with special needs
Support for essential workers who need child care
Support for child care providers etc.
For details, support, and information, visit here.
Alberta
Alberta is taking aggressive measures to help slow the spread of COVID-19. Additional actions may be required in the coming days.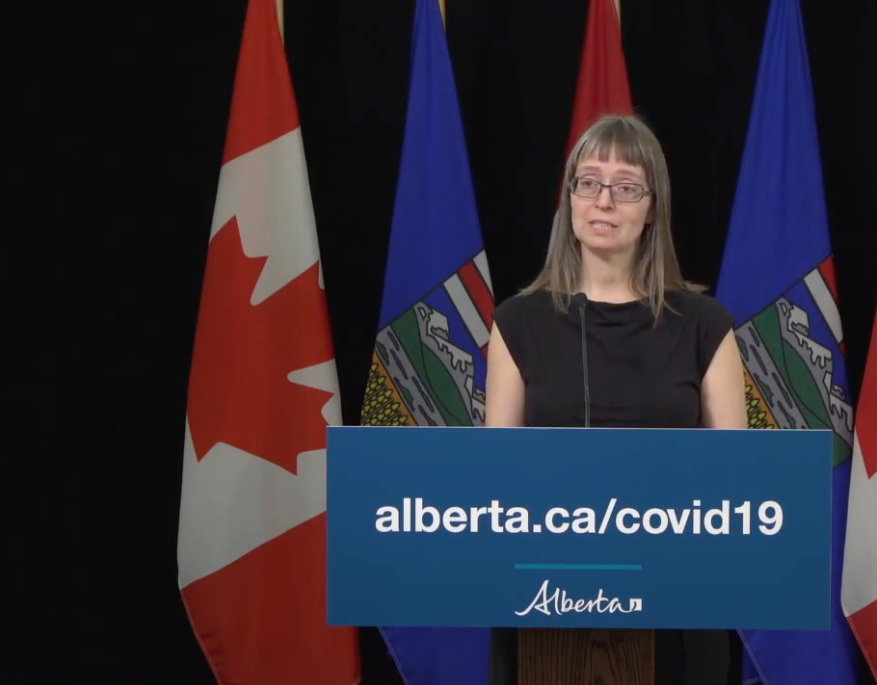 Alberta confirmed 239 new cases of coronavirus, the total on April 17th being 2,397 with 50 deaths, 914 recovered, and 85,502 completed tests so far.
The online camping reservation system is temporarily closed and no longer accessible for customers to cancel bookings on their own. Alberta Parks will begin notifying customers with existing reservations up to May 19 through a system-generated email. All fees paid will be refunded.
Additional cancellations, including those after May 19, will be announced in the future as the government continues to assess the pandemic situation on the advice of the chief medical officer of health.
Today Leela Sharon Aheer, Minister of Culture, Multiculturalism and Status of Women, issued the following statement on Equality Day, "On this day 35 years ago, Section 15 of the Canadian Charter of Rights and Freedoms came into effect. Section 15 lays out our equality rights in Canada. We are proud that everyone is equal under the law and that everyone has the right to equal protection and equal benefit of the law in this great nation of Canada," she said.
Also, Premier Jason Kenney issued a statement on the federal government's energy stimulus package. "We are grateful for this job-creating initiative, and we will continue to work with the federal government until the energy sector has what it needs to survive and thrive for the benefit of all Canadians," he said.
For his entire statement, please visit here.
Saskatchewan
As of April 17, 2020, the total provincial COVID-19 cases is 305. Eighty-two of the cases are considered active.
Saskatoon currently has 44 active cases and has had 147 of the province's total number of cases since the onset of the pandemic. The 2020 SaskTel Saskatchewan Jazz Festival has been postponed due to the COVID-19 outbreak. The event was scheduled for July 3-12.
Saskatchewan's real GDP is expected to decline by five per cent this year, according to a report from the Conference Board of Canada. But it also forecasts Saskatchewan's real GDP will rebound by 5.4 per cent in 2021.
Manitoba
Public health officials advise no new cases of COVID-19 were identified as of 9:30 a.m. today, and the total number of lab-confirmed positive and probable positive cases in Manitoba remains at 250.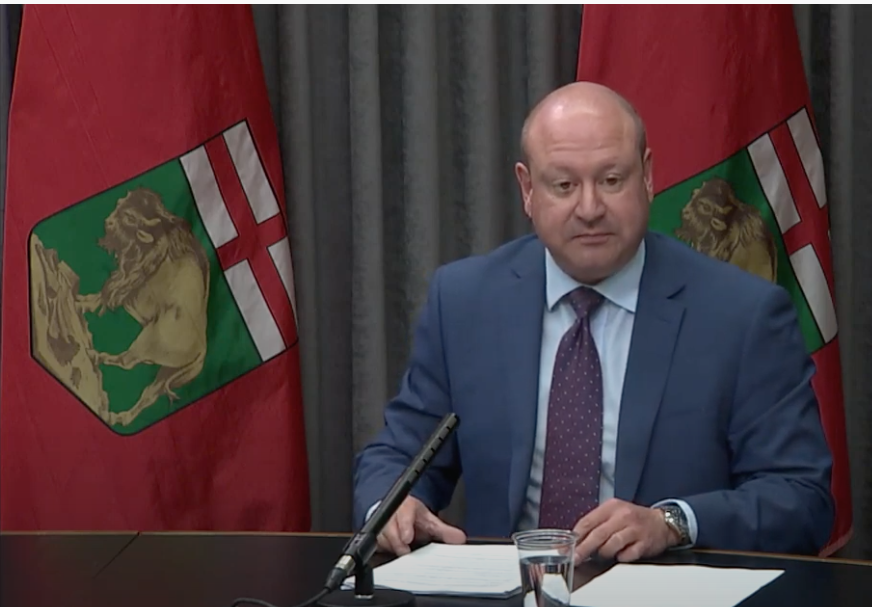 The data also shows:
Eight individuals are currently hospitalized, which includes four individuals in intensive care
113 active cases and 132 individuals who have recovered from COVID-19;
The number of deaths due to COVID-19 remains at five.
Cadham Provincial Laboratory performed 508 tests Thursday. A total of 18,856 tests have been conducted since early February. The Manitoba government is investing an additional $300 million to ensure the government can respond quickly to front-line health-care needs and protect vulnerable Manitobans, Central Services Minister Reg Helwer announced today.
"Today, we're quadrupling our commitment to $400 million for the COVID-19 Procurement Fund to ensure our plan is effective and that we can continue to be proactive in the steps we take to protect Manitobans during this pandemic," said Helwer.
Funds are being used for purposes such as:
Purchasing significant amounts of essential medical supplies and equipment
Developing hotel capacity for those requiring isolations
Preparing for large-scale low acuity medical overflow for hospitals;
Supporting the local, made-in-Manitoba production of gowns, scrubs, gloves, and other medical equipment
Providing training and grants to child-care experts to become entrepreneurs by opening their own small-scale day-cares;
Establishing a COVID-19 research fund through Research Manitoba;
Providing a new digital online service for mental health support;
Creating https://helpnextdoormb.ca/ to link Manitobans needing help with volunteers;
Engaging local call centre, 24-7 Intouch, to contact Manitobans to drive awareness of government support programs to small businesses, charities, and not-for-profits; and
Opening multiple provincewide testing sites to bolster the response to this health crisis.
Also, today The Manitoba government has redesigned its bilingual service centres website to make it easier for Manitobans to find the services and information they need online.
Ontario
Ontario reported 564 new cases of the novel coronavirus on Friday and 55 additional deaths, bringing the provincial total to 9,525 cases. The death toll has risen to 478.
Meanwhile, 4,556 people have recovered from COVID-19, which is 47.8 per cent of cases. The province has completed 136,992 tests so far for the virus. This is up 8,899 tests from the previous day.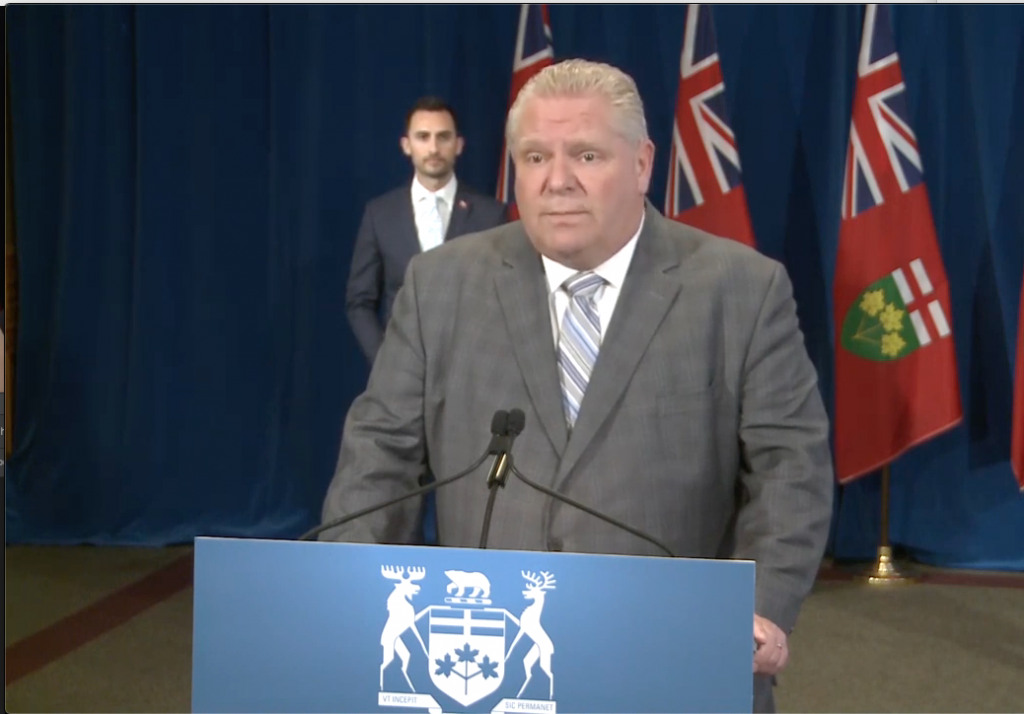 There are now 728 confirmed cases of COVID-19 in Ottawa and more than 1,325 in eastern Ontario and western Quebec. The deaths of 28 people in Leeds, Grenville and Lanark counties and two more in the wider region have also been tied to COVID-19.
The vast majority of the deaths are seniors.
Ontario's education minister says there's no reason to believe school can reopen next month but has not yet cancelled classes past May 4.

The Ontario government is expanding the list of essential workers eligible to receive emergency child care, as follows:
Staff working in developmental services, victim services, violence against women services, anti-human trafficking services and child welfare services (children's aid societies) and in children's residential settings;
Additional staff identified by the Ministry of the Solicitor General, including:
First Nations constables;
Office of the Fire Marshal and Emergency Management fire investigators;
Select critical staff in community corrections, such as probation and parole officers;
Contractors in institutional corrections services;
Frontline staff at the Provincial Forensic Pathology Unit;
Critical staff at the Centre of Forensic Sciences; and
Critical staff operating the Provincial Emergency Operations Centre.
Staff working in shelters (e.g., serving homeless populations);
Power workers;
Pharmaceutical and medical supplies and device manufacturing workers;
Non-municipal water and waste-water employees; and
Federally employed staff including Royal Canadian Mounted Police (RCMP), Canada Border Services Agency (CBSA) officers and
Canada Post employees.
Quebec
Premier François Legault, who has repeatedly described the situation in long-term care homes reeling from outbreaks as critical, said on Friday that he has spent days and nights asking himself what he could have done differently.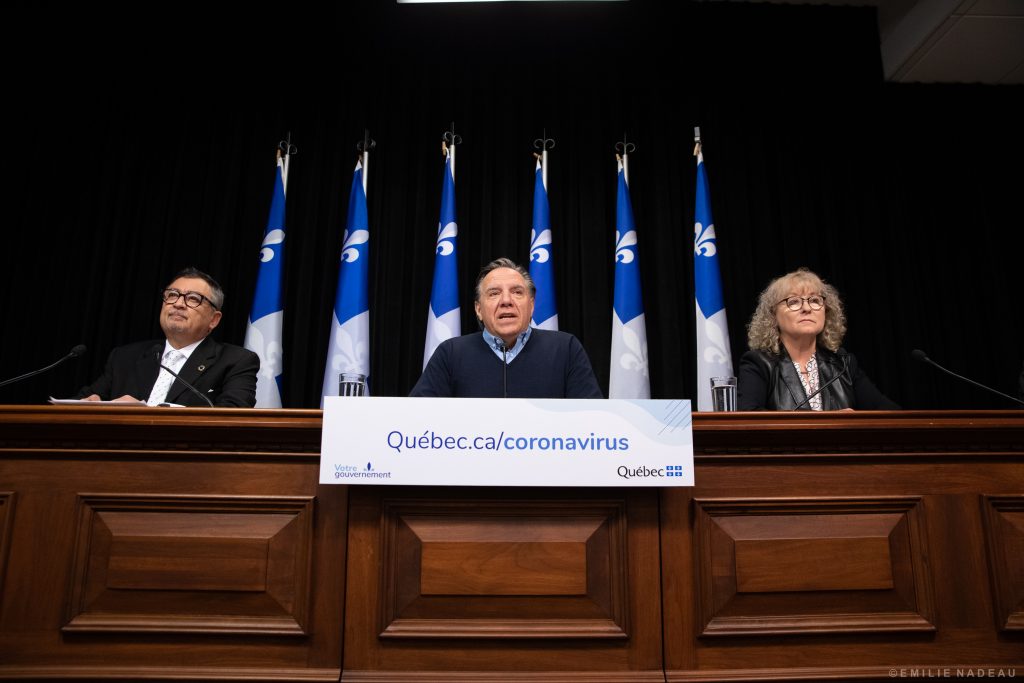 "I take full responsibility," he said. "We entered this crisis badly equipped, and the situation deteriorated."
The unfolding crisis has claimed the lives of 58 more Quebecers, for a total of 688 and led to 16,798 cases to date. More than 1,000 people are in hospital, and 207 of them are in intensive care.
Montreal has registered a total number of 7,760 cases.
At least 2,000 medical specialists and family physicians have come forward to offer help, as earlier this week, the Quebec government said it was monitoring at least 40 seniors residences due to a high number of cases.
New Brunswick
Public Health reports no new cases of COVID-19 today. Of the 117 cases previously confirmed, 66 are travel-related, 42 are close contacts of confirmed cases, and nine are the result of community transmission.
During the pandemic, 13 people have been hospitalized, and eight have since been discharged. Three of the five patients remaining in the hospital are in an intensive care unit. To date, 83 people have recovered.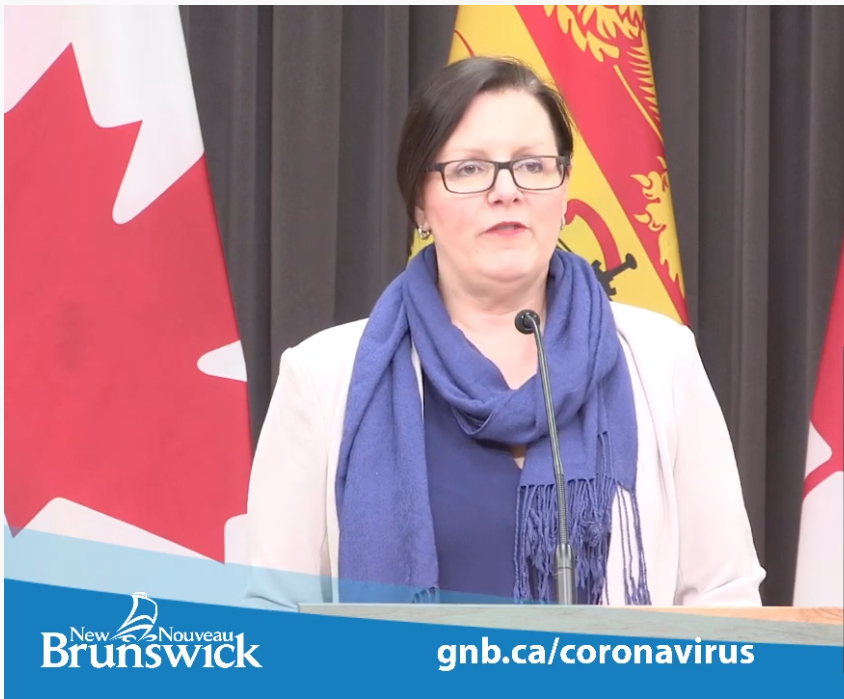 Dr. Jennifer Russell, chief medical officer of health, said these results are encouraging but warned that the gains the province has made could quickly be lost if the public does not remain vigilant in preventing the spread of the virus.
Nova Scotia
Twenty-seven new coronavirus cases were reported today in NS, with four deaths and 177 recoveries. The total number of COVID-19 by date is 579.
Nova Scotia Power, EfficiencyOne, and the province are redirecting $3 million from the HomeWarming program to fund organizations that deliver prepared meals, operate soup kitchens, help the homeless and provide other services. Nova Scotia Power has contributed $1 million, while EfficiencyOne is providing $2 million of provincial funding for the program.
"Now is not the time to unnecessarily have workers coming into your home, it is a time to stay home and social distance," said Dr. Robert Strang, Nova Scotia's chief medical officer of health.
Prince Edward Island
There are no new cases of COVID-19 in PEI today, says chief public health officer Dr. Heather Morrison. She announced during a daily news conference about the coronavirus (COVID-19), during which she said the province also received 118 negative test results since yesterday.
Yesterday PEI declared a state of emergency in response to COVID-19, in addition to the public health emergency that was previously declared.
Yukon
As of today, April 17th, 2020, the number of cases of COVID-19 in Yukon is eight, with six recovered cases and pending 10 results.
Six of the eight people that have contracted COVID-19 in Yukon have now recovered, and no one has had to go to a hospital. Total people tested 841.
Newfoundland and Labrador
Today there are 256 COVID-19 confirmed cases, 4 cases being registered in the last 24 hours. Three people have died, and the total number of tests performed has increased to 5,585.
The Department of Transportation and Works has released the list of provincial road projects planned for 2020-21 to allow contractors to be prepared to start work when the road construction season begins.
Tenders for 11 projects have already been issued, and 10 more tenders are planned to be released in the coming days.
Northwest Territories
By date, there are five coronavirus cases confirmed (including two resolved), and 1,464 tests have been completed.
Nunavut
No cases of COVID-19 in Nunavut.
Around the World
German Chancellor Angela Merkel defended the work of WHO during the G7 leaders call, after the U.S. President's recent statements.
"The chancellor made clear that the pandemic can only be defeated with a strong and coordinated international response," her spokesman, Steffen Seibert, said afterward in a statement. "In this context, she expressed full support for the WHO as well as a number of other partners."
The French navy is investigating the origins of a coronavirus outbreak on Charles de Gaulle vessel, one of its aircraft carriers that has infected more than 1,000 sailors, a Navy spokesman Cmdr. Eric Lavault said on Friday.
One person remains in intensive care, and more than 20 have been hospitalized due to complications associated with the disease.
Russia confirmed 4,070 new coronavirus infections on Friday, bringing the country's official number of cases to 32,008 and marking the latest one-day record in new cases. By today, 273 people have died due to the virus.
The majority of Russia's cases are in Moscow. Since March 30th, all of Moscow's 12 million residents have been ordered to stay in their homes with few exceptions.
Globally, coronavirus cases reached 2.2 million and surpassing 151,000 deaths.
…
Working together to maintain social distancing and staying at home, are the only ways to slow the spread and flatten the curve of COVID-19.
Stay safe!
For more information, access worldometer.com, canada.ca, and don't miss Prime Minister Justin Trudeau's daily briefing at 11.15 ET.