Create a Cozy outdoor space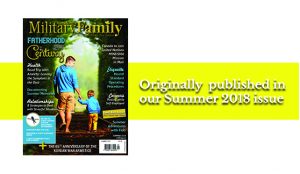 Living in Canada makes us appreciate the summer season. After being cooped up for months, we just want to head outside and enjoy our outdoor space. To make the most out of the warm weather, create a comfortable outdoor space where you can enjoy the sunshine.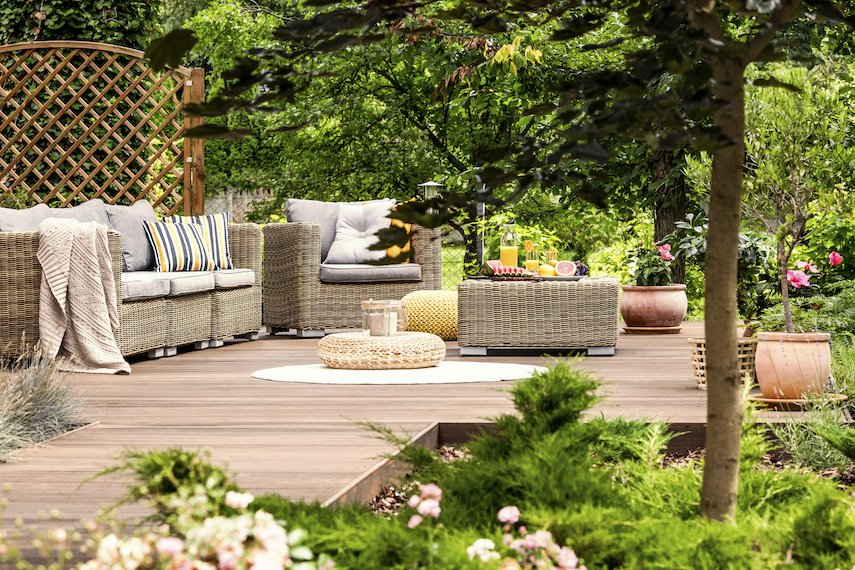 Visual Anchor
Depending on your current posting location, you might have an acreage as an outdoor space or you might have a balcony. In terms of making a space feel inviting, bigger is not always better since it might make the space feel impersonal and hard to fill. Either way, the first step in creating an inviting outdoor area is defining the space by delimiting where it begins and ends.
 This can be done easily if you have a patio, balcony or a structure already in place which visually defines the area, but if you have a large open space with no clear delimitations you need to create a visual anchor point. A visual anchor can be created vertically with a decorative fence or by using a trellis or horizontally on the ground with flagstone or pavers. If you have a smaller space such as a balcony and you are looking for some more greenery, you can use a faux grass rug to replicate the feeling of a yard.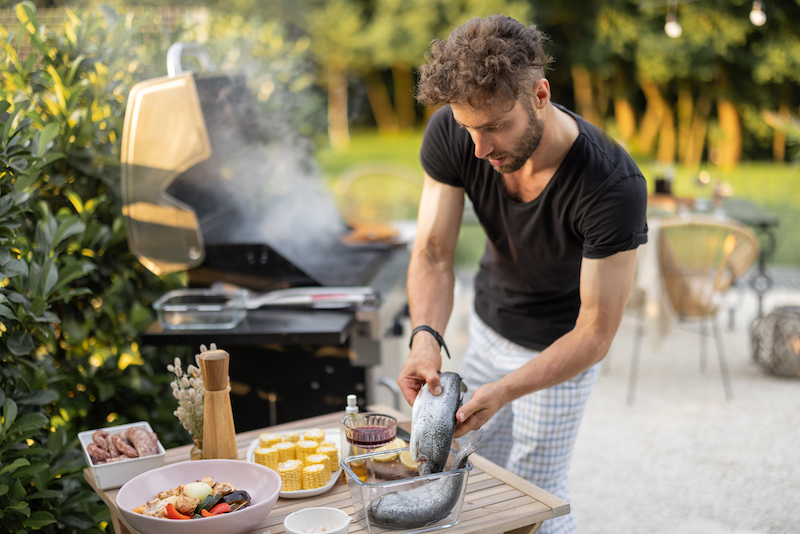 Moving the Inside Out
In order to make the most of the weather, transition your space from inside to outside. This means having an area to cook, an area to eat, and a sitting area for lounging.  Having these spaces will allow you to live outside during the summer months. 
Depending on your space and budget, you can set up a large cooking area or bar. You can take the outdoor living concept to another level by moving your television outside or making an outdoor theatre. If you have a shed, think of it as an extension of your outdoor space to create a studio, a play area for the kids, or adult hang out space for card games.    
 

Shade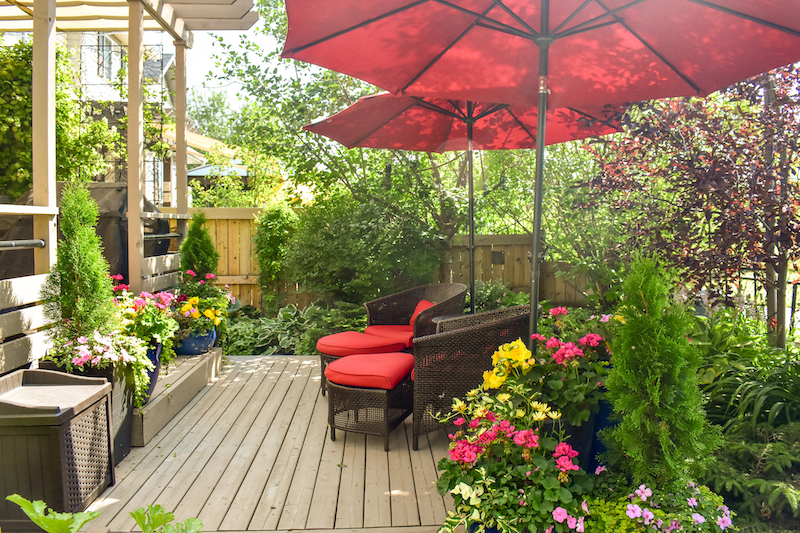 Although we love the sun, at noon the blazing sun might be a bit much. There should be some shade available to be able to rest. Options include things like a large umbrella or a retractable awning that can be opened or closed when necessary. You can buy a pre-made structure like a steel frame gazebo or build your own pergola. To add shade and privacy, place curtains or blinds around your pergola or gazebo. 

Lighting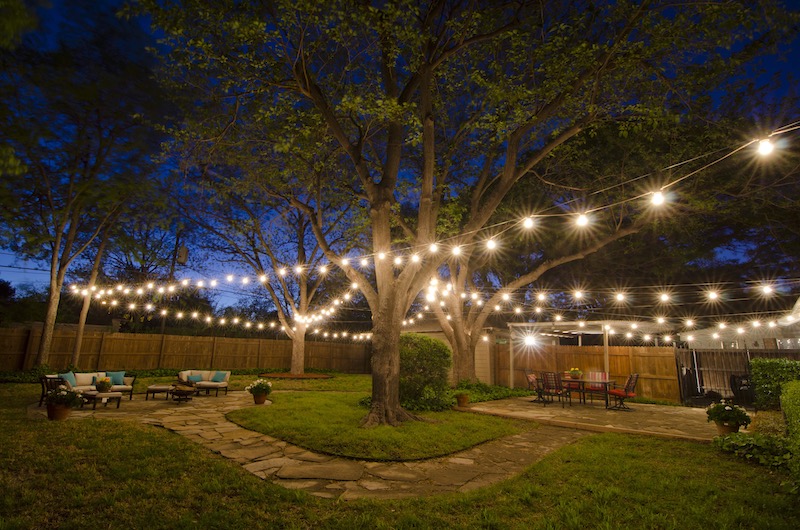 To ensure that you spend your days out in the open, you need the basics comforts of home. Make sure that you have adequate lighting for when darkness starts to set. The objective is to have sufficient lighting to be able to eat and hang out for long periods of time.
Nowadays, string lights are all the rage. They are wrapped around trees to create soft and romantic scenery or strung on poles to create ambient lighting. If you do not have access to an electrical source, there are several options such as solar-powered lighting, battery operated lights, or traditional candles, all of which can help illuminate your space. 
Heating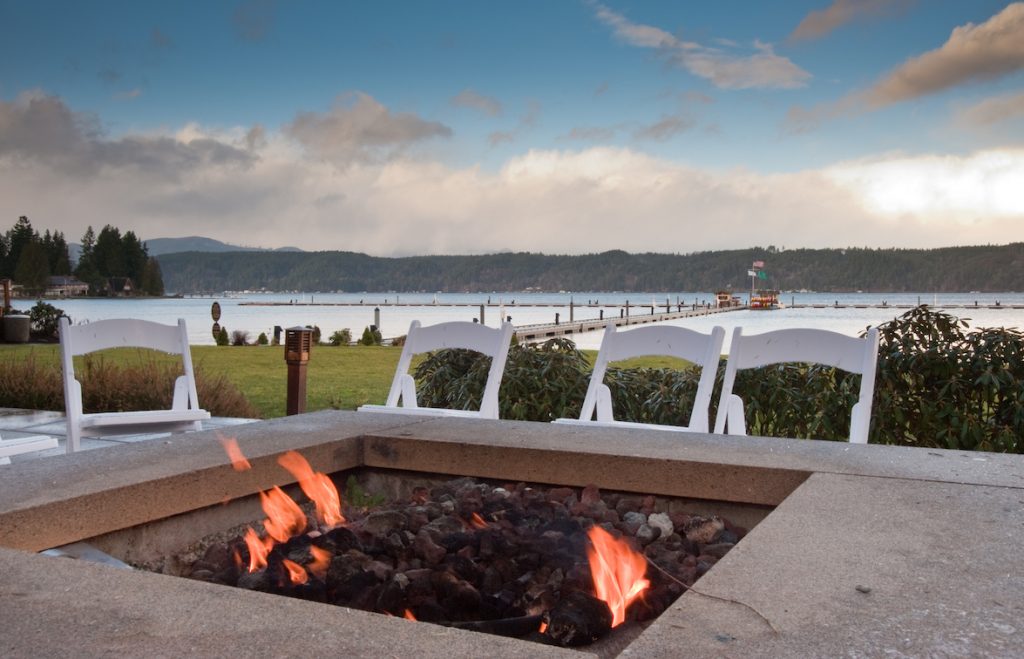 Once the sun sets, evenings can get chilly. To keep everyone warm and cozy, add a source of heat to your outdoor layout. It will serve a double purpose of not only providing heat but light as well. An inexpensive option is to build your own firepit by using some pavers and rocks, but for areas where fires are not permitted, you can purchase an ethanol fireplace or a heating lamp. Don't forget to have some extra blankets handy for those family members who are always cold and will need the extra layer.  
Home décor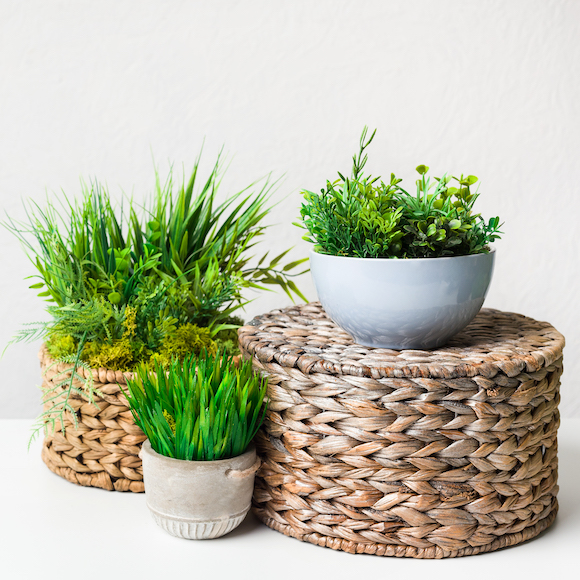 To complete the look of your outdoor space, do not forget the details which makes a space look finished. Bring the level of attention which you bring inside your home to the outdoors by including tables, pillows and a rug. The fabric must be U.V and weather resistant, but there are many available options in large box stores which are very stylish. 
The final touches such as table centrepieces or decor must be heavy enough to resist strong gusts of wind. A simple idea is to use flower pots, vases, lanterns or planters to show off natural elements like shells, rocks and wood. The final touch to any space are plants. Add some greenery by having some hanging or potted plants. You can build your own planter box that fits your space and needs. You can also add colour with a variety of flowers or go monochromatic for a more modern look with only green plants. Why not go fragrant with a fresh herb planter box?