The Wellness Soldier's Signature Pie:
This is a fun and healthy spin on Shepherd's pie. With the use of ground turkey and roasted butternut squash and sweet potato mash, you will have your family talking at the dinner table, asking "Where did you buy this mom?" The great thing about this recipe is that you can make it ahead of time and feed the whole family.
For The Sweet Potato Mash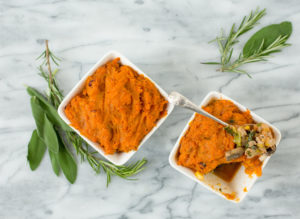 INGREDIENTS:
• 1 Butternut Squash
• 3 Sweet Potatoes (medium sized)
• 2 Tbsp Coconut Oil
• 2 Tbsp Butter
• 3o ml Coconut Sugar
• 5 ml of Ground Cinnamon
• Pinch of Ground Nutmeg
• Salt and Pepper
DIRECTIONS:
1. Preheat oven to 400°F
2. Peel and chop sweet potatoes into medium dice, add to large bowl
3. PREPARE THE BUTTERNUT SQUASH;
• Cut off top and bottom,
• Peel outside skin,
• Cut squash in half,
• With a spoon, core out the membranes with the seeds and discard.
4. Chop squash into medium dices and add to the large bowl with the sweet potatoes.
5. Add Coconut Oil and Sugar, Cinnamon, Nutmeg, and Salt & Pepper…and mix.
6. Add to lined pan, and bake in oven for 30 minutes, or until fork tender.
7. Add to mixing bowl, and add Butter.
8. Mash until desired consistency is reached. Taste, Season, Taste!!
9. Set aside,
For The Pie Filling
INGREDIENTS:
• 1 Pound Turkey
• ½ Onion – Chopped
• ½ Carrot – shredded
• 2 Leaves Swiss Chard – Chopped
• 2 Garlic Cloves – Minced
• 6 Mushrooms – Sliced
• ¾ Cup Leeks – Chopped
• 6 Sage Leaves
• 1 Rosemary Stalk
• 1/3 Cup White Wine
• ½ Cup Chicken Stock
• 1 Tbsp Tomato Paste
• Salt and Pepper

DIRECTIONS:
1. Pre-heat oven to 375°F
2. Cook Turkey in a pan until fully cooked.
3. Add Onion, Carrots, Swiss Chard, Garlic, Mushrooms,
4. Cook all ingredients together for 5 minutes,
5. Add chopped Sage and Rosemary, stir,
6. Add the White Wine, and deglaze the pan,
7. Add Chicken Stock and Tomato Paste,
8. Taste, season, and taste with Salt and Pepper,
9. Put mixture in oven ready cookware, top with corn, and top the whole thing with the mashed potato mixture.
10. Place in oven for 20 minutes to crisp up the top, and
11. Serve, Eat Well, and Be Happy
Goats Cheese & Chive Mashed Potatoes:
Every kitchen needs a go-to mashed potato for those nights when you don't want to spend 30-40 minutes on a side dish.
Simply peel (or not) potatoes, throw them in a pot of boiling water, and mash, when finished, …how easy is that!! You can use red potatoes, Yukon gold potatoes, russet potatoes, white potatoes, purple potatoes, or even Kennebec potatoes for a great tasting mashed potato.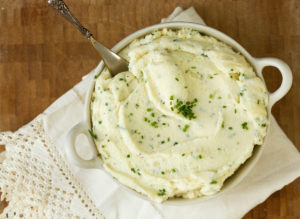 The addition of goat's cheese, chives, and subtle hints of garlic throughout these mashed potatoes will keep your family and friends talking. Taking them from "These mashed potatoes are OK" –to- "Where have these mashed potatoes been all my life?"
INGREDIENTS:
• 2.5 Pounds Potatoes
• 10oz package of Soft Ripened Goats Cheese
• 25 Chives
• 2 Garlic Cloves
• ½ Cup Butter
• 1 Cup Vegetable Stock (Can be substituted for cream)
• Salt & Pepper
DIRECTIONS:
1. Peel and cut potatoes,
2. Boil in Salted water for approx. 30-40 minutes or until fork tender,
3. Strain potatoes from liquid,
4. Place strained potatoes in a mixing bowl,
5. Add remaining ingredients and mash/incorporate well,
6. Add more stock or cream if a creamier consistency is wanted,
7. Taste, Season, and Taste,
8. Serve, Eat Well, and Be Happy.