Irish Inspired Recipes for St. Patty's Day
Irish Braised Lamb Shanks:
Lamb Shanks are a very flavorful part of the lamb and will have your taste buds dancing in excitement. It seems like no matter what you make with lamb, guests and family go crazy when they hear lamb is on the menu. You can serve with mashed potatoes, polenta, roasted root veggies, or your favorite side dish.
Making lamb shanks is the ultimate in "set it and forget it" all you need to do is sear the lamb, add the liquid and slap it in the oven for two hours! When it comes out of the oven, strain the liquid and reduce. That reduction makes for an amazing sauce that will accompany your shanks.
INGREDIENTS: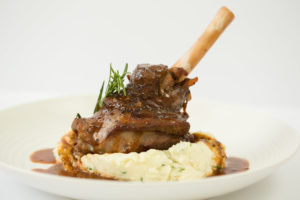 • 4 Lamb Shanks
• Olive Oil
• 2 Carrots
• 1 Onion
• 4 Garlic Cloves
• 1 Cup Red Wine
• 2 Cups Beef Stock
• 3 Bay Leaves
• 2 Rosemary sprigs
• 4 Thyme sprigs
• Salt & Pepper
DIRECTIONS:
1. Pre-heat oven to 375°F
2. Remove Lamb shanks from package, rinse under cool water, and season with salt and pepper,
3. Sear Lamb Shanks in hot Olive Oil, in an oven ready pan,
4. When seared on all sides remove Lamb Shanks and set aside,
5. Add the Onion, Carrots, Garlic to the pan and cook for 3-5 minutes,
6. Deglaze with Red Wine and allow to reduce by half,
7. Add Beef Stock, Bay Leaves, Rosemary, Thyme,
8. Add Lamb Shanks back to the liquid mix, cover with lid
9. Cook in preheated oven for 2 hours,
10. After 2 hours remove from oven, remove Lamb Shanks and set aside to rest,
11. Reduce the remaining liquid until a sauce consistency is reached.
12. Taste, Season, and Taste with Salt & Pepper,
13. Serve, Eat Well, and Be Happy.
Potato and Leek Soup with Irish Soda Bread:
There is nothing better than curling up with a hot bowl of soup on a cold winter's day to warm your soul.
What better way to make a soup then to throw all of the ingredients in a pot, simmer for an hour, and then blend it. That's the great thing about cream soups, they are easy to make, and the amount of preparation is minimal.
Potatoes and leeks are amazing ingredients on their own but add them together, and you will create an amazing dish. With this super simple and delicious soup, your family will be sitting around the table enjoying a meal together. Then you bring out the home made Irish Soda Bread for dipping in the soup, and they won't know what hit them!
For the soup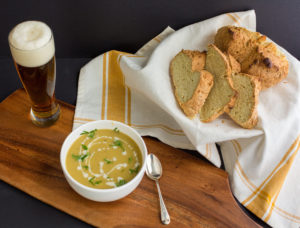 INGREDIENTS:
• Olive Oil
• 2 Pounds Potatoes
• 1 Onion – Chopped
• 1 Leek – Chopped
• 3 Garlic Cloves – Minced
• 1 473 ml Can of Guinness Blonde Lager
• 1.5 Litres Vegetable Stock
• 60 ml Coconut Milk (or 35% Cream)
• Salt & Pepper
DIRECTIONS:
1. Peel and cut potatoes, set aside
2. Sauté Onions, Leeks, and Garlic in soup pot until onions are translucent,
3. Add Potatoes and cook for 2-3 minutes,
4. Deglaze with Guinness Blonde Lager, (Pour can into pan and reduce by half)
5. Add Vegetable Stock,
6. Simmer for an hour, and when all veggies are fork tender,
7. Blend or use an immersion blender to reach desired soup consistency,
8. Add Coconut Milk or 35% Cream to soup if too thick.
9. Taste, Season, and Taste with Salt & Pepper
10. Serve, Eat Well, and Be Happy!

For the bread
INGREDIENTS:
• 4 Cups All Purpose Flour
• 10 ml Sugar
• 10 ml Baking Soda
• 2 Cups Buttermilk
DIRECTIONS:
1. Preheat Oven to 400°F
2. Place Flour, Sugar, and Baking soda in a mixing bowl and mix together, making a well in the middle when finished.
3. Add the Buttermilk to the dry ingredients and mix together,
4. Once mixed, remove from bowl to knead on floured surface,
5. Shape into ball, and make an "X" with a knife in the middle of the dough.
6. Put in preheated oven for 40-50 minutes.
7. Serve, Eat Well, and Be Happy