Survival "Tent" Routine For Families: COVID-19
In a crisis, there is tremendous value in maintaining normal processes under stress. Keep doing the easy things easily so you save capacity (physical, mental, emotional, resources, financial, etc) to deal with the novel, exceptional, severe aspects of a crisis. This one of many approaches that resilient people, teams, organizations take during chaos.
Tent routine is a term used in camping. In the military we used it during winter warfare training, exercises, and operations where we live in cramped 10-person tents. It means all the repetitive activities that are done individually and collectively to survive out in the elements and ensure the accomplishment of the mission—while living very close-quarters in a tent. It provides purposeful work to every member of the team and lays out the ground rules for living together. 
"There is comfort in routine." ~ John Steinbeck
This ensures that no-one slips into a state of boredom, that the work gets done in a way that allows everyone to contribute to the group's success, and that everyone can live together. All these things help to sustain morale, which is the greatest asset during dark times.
Our mission is to "flatten the curve" by working from home and enacting social distancing measures. This will upend many people's lives, impinge upon taken-for-granted personal freedoms, and require a level of individual and societal discipline typically required when on a national war footing. 
As a viral quote on social media reminds us "our grandparents were called to war, we are being called to sit on a couch."
Below is my family's tent routine. In some cases the activities are subroutines.  It is formatted in 2 columns: Description of our activities and the Rationale, so you understand why each activity is important.
Remember: Our mission is too flatten the curve. Please do your part.

COVID-19 "TENT" ROUTINE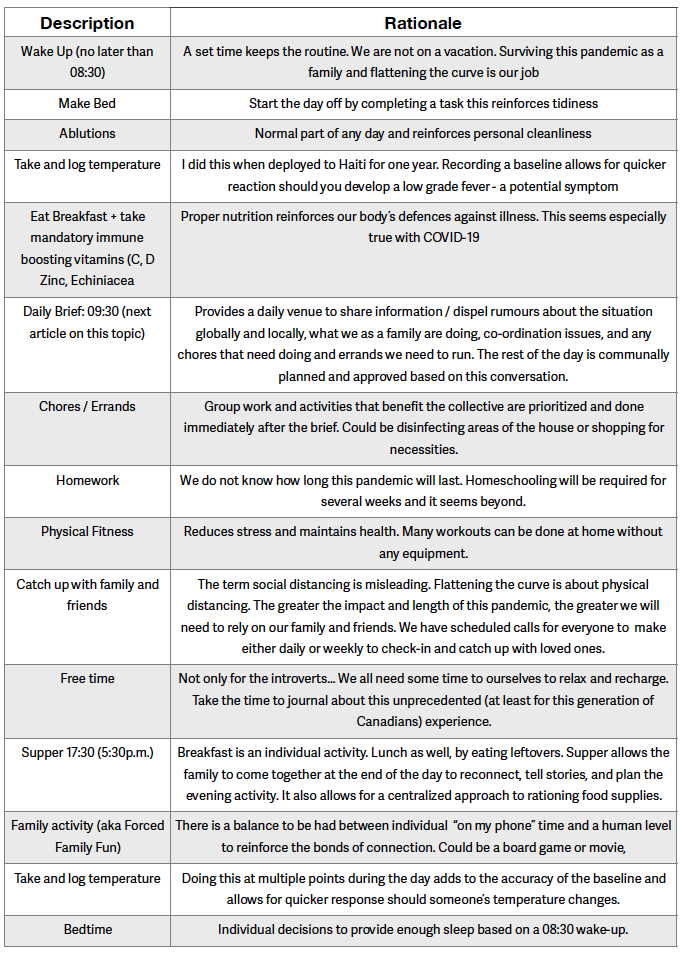 Having served for over 20 years in the Canadian Army and deployed to war zones and natural disasters, I fully expect this pandemic to bring out the best in many of us and the worst in some of us. This is not the time to think about this situation through the lens of our individual rights but rather as citizens of the world and, therefore, based on our responsibilities to the greater good.
Look for Mark's next article coming next week.