Canada Company Scholarships Awarded
Ten deserving children of military personnel who were killed in service received post-secondary scholarships from Canada Company on June 19.
Representatives from across Canada's business, political and military communities gathered in Toronto to salute the children and their families.
"Canada Company is proud to support the men and women who serve our country and will continue to honour the heroes who have fallen and their families," said Blake Goldring, founder and chair of Canada Company. "Over the last eight years Canada Company has seen these fine young people succeed, complete their undergraduate degrees and transition into adulthood. We are committed to ensuring that the children of those who have served our country and paid the ultimate price are supported and that the sacrifice made by their parents is recognized."
Goldring, honorary colonel of the army, was joined by Major-General Juneau, deputy commander of the Canadian Army, leaders in business, military and government officials to pay tribute to the families of servicemen and women who passed away in the line of duty.
Each recipient is eligible to receive up to $4,000 per year for up to four years to help defray the costs of their post-secondary education. Children of Canadian Armed Forces (CAF) members who have died on duty while serving in an active role in a military mission of the Canadian Forces or Reserves are eligible to apply.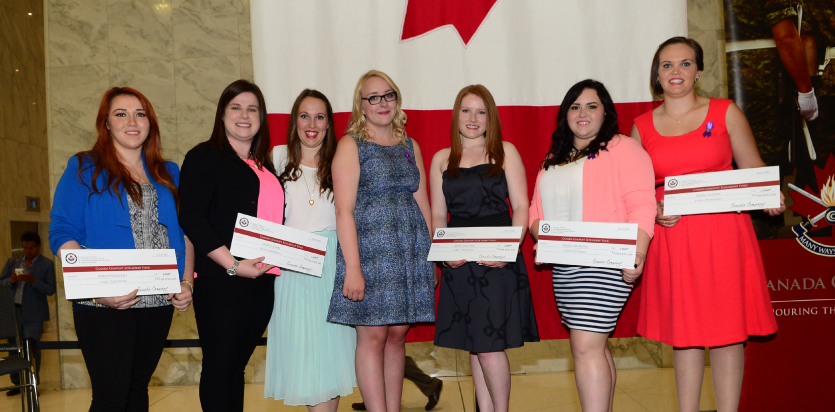 The Canada Company Scholarship Fund will provide scholarship grants to children dating back to January 1, 2002. Since the fund was established in 2007, Canada Company has provided $312,000 in scholarships to children of fallen CAF personnel.
Jasmine Vialette, daughter of Corporal Robert Vialette, Royal Canadian Horse Artillery, who died in the line of duty in 1997 in Croatia, expressed gratitude for the scholarship. Enrolled in the Aquaculture program at Dalhousie University, Nova Scotia Violette plans to work in the field of aquaculture research.

"This scholarship takes a lot of pressure off of my family," said Violette. "The most meaningful part of the award is getting together with other recipients who have the same shared life experience as me. Our moms get together too. We know we have all been through the same thing, and it's really supportive."
This year's recipients of the Canada Company scholarships are:
Kristopher Beerenfenger, son of Corporal Robbie Beerenfenger, The Royal Canadian Regiment, 1st Battalion Group [D: Afghanistan, October 2, 2003]
Gale Gillam, daughter of Sgt. Craig Paul Gillam, Royal Canadian Dragoons, Petawawa  [D:  Afghanistan, October 3, 2006]
Brettanea  and Chelsey Hendrickson, daughters of Warrant Officer Robert Wilson, Royal Canadian Regiment  [D:  Afghanistan, December 5, 2008]
Maude Mercier, daughter of Master Warrant Officer Mario Mercier, e Bataillon, Royal 22e Régiment  [D:  Afghanistan, August 22, 2007]
Kiera Mitchell, daughter of Capt Bryan Mitchell, Royal Canadian Airforce, 431 Air Demonstration Squadron  [D:  Moose Jaw, October 9, 2008]
Arina and Halsey Naismith, daughters of Capt Kevin Naismith, Royal Canadian Airforce, 416 Tactical Fighter Squadron  [D:  Cold Lake, Alberta, May 26, 2003]
Laura Squires, daughter of Sgt. Hedley Jerry Squires, Princess Patricia's Canadian Light Infantry [D:  Thasos Island, Greece, August 25, 1999]
Brittany Stewart, daughter of MCpl. Allan Stewart, Royal Canadian Dragoons [D:  Afghanistan, April 11, 2007]
Jasmine Vialette, daughter of Cpl Robert Vialette, Royal Canadian Horse Artillery  [D:   Croatia, 21 Jul 97]
Created in 2006, Canada Company brings business leaders together from across Canada to support CAF members and their families. The Canada Company Scholarship Fund was created in 2007 to supplement benefits available to children who have had a parent perish while on duty.
Awarded annually, the scholarships provide $4,000 per year for up to four years to children who qualify. These scholarships help to offset tuition fees and other living expenses required to complete a post-secondary education. Canada Company's motto is Many Ways To Serve.
For further information on Canada Company and their scholarship program, please visit their website.
Get More! Receive six issues of Canadian Military Family Magazine in your mail box for only $17.95! Click here to subscribe NOW!