Is the #metoo campaign a movement or a moment?
According to a new survey of Canadian public opinion conducted by the Angus Reid Institute, the answer to that question depends on your gender and age.
Younger Canadian women were found to have the strongest voices for change, while younger men are more open-minded in their views about what is and isn't acceptable in the workplace.
However, older men, according to Angus Reid Institute, believe that "social norms are changing too quickly, making it hard to know where to draw the line on behaviour."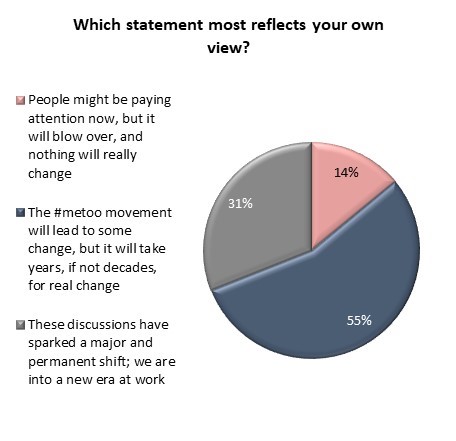 Despite these differences, an overwhelming majority of both genders say that the #metoo campaign is "long overdue" and that campaign will make a lasting change on gender relations.
Additionally, according to the poll 61 per cent of Canadians report they are following the news surrounding the campaign closely and believe it has made a difference on how they view workplace gender relations.

The poll also found that more than half the women polled have been subjected to harassing behaviour in their working lives.
Nearly nine-in-ten women have taken steps to avoid unwanted sexual advances at work; more than one third say they embrace the responsibility of protecting themselves from sexual harassment; and one-in-four women have also experienced non-consensual sexual touching, better known as sexual assault.