CAF Nijmegen contingent to commemorate CWO Keith Phillip Jones during this year's march
Friends, family, and dignitaries were on hand on July 10th at the Canadian War Museum to send off more than 200 Canadian soldiers to the Netherlands for the 102nd annual International Four Days Marches Nijmegen, taking place from July 17 to 20, 2018.
"For 66 years, the Canadian Armed Forces have participated in the International Four Days Marches Nijmegen, honouring the Canadian troops who sacrificed their lives during the First World War and Second World War, for the freedom and security of Europe and consequently, of the world," said Lt. Gen. Lamarre in a press release. "This year's team continues this tradition with pride and a great feeling of honour in commemorating our veterans."
For the second year in a row, Colonel Geoff Abthorpe, Commander 38 Canadian Brigade Group, headquartered in Winnipeg, Manitoba, will lead the CAF contingent. This year marks the 66th year of Canadian participation when they first joined in 1952.
"This year it is an honour to be commanding Joint Task Force Nijmegen for the second time and to have the opportunity to lead such a diverse and strong team, in the footsteps of our predecessors, who paved the way to freedom and peace in the last century," said Col. Abthorpe in a press release.
Participants will march a total of 160 km over four days, through the Dutch countryside and crowded streets of towns in the area surrounding the city of Nijmegen. Since the march began in 1909, the event has grown to around 55,000 participants.
While knocking off the kilometres during their 160 km trek, participants will have the opportunity to reflect on Canada's legacy in Europe. Three wreaths have been donated to honour the fallen of the First and Second World Wars.
 One wreath is to be placed at the Groesbeek Canadian War Cemetery in the Netherlands, on behalf of the Ambassador of the Kingdom of the Netherlands; the second is to be placed at the Groesbeek Canadian War Cemetery, on behalf of the Royal Canadian Legion; and the third will be set at the Canadian War Memorial at Vimy Ridge, on behalf of the Canadian War Museum.
At the parade Lt.-Gen. Lamarre noted he wanted to commemorate CWO Keith Phillip Jones at this year's Nijmegen March. Lt.Gen Lamarre described CWO Jones as embodying the values of commitment, strength, camaraderie, and serving to his community and Canada through his life.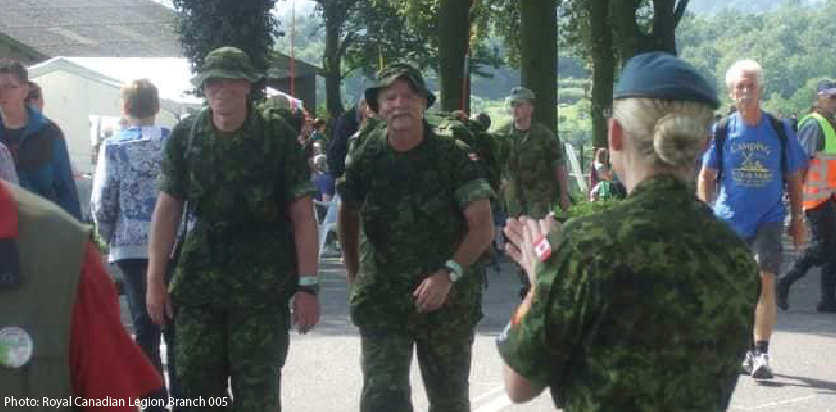 "CWO Keith Phillip Jones of Grande Digue, NB, passed away suddenly in May of this year. Keith Jones served 40 years with the Canadian Armed Forces through numerous postings and deployments across the globe, from Egypt to Bosnia and more," said Lt.-Gen. Lamarre. "Keith Jones had been appointed as the Canadian Contingent Nijmegen Regimental Task Force Regimental Sargent Major, and he held his position until his retirement, sustaining the morale of Canadian marchers year after year."
CWO Jones participated in 14 Nijmegen Marches. For 10 of those marches, he had served as the RSM for JTF Nijmegen. In 2015, he was awarded the Dutch Order Knight of the Orange Nassau.
"Outside of the Forces, he also gave his time to his community, and he'd become a great cook in assistance to his daughter, whom herself had become a chef. It was quite a peer to see those two whip up a meal, and I tell you, I was left with good memories, a full stomach, and great conversation," added Lt.-Gen. Lamarre. "He had fantastic contributions to what you're about to undertake here. He represented Canada and all Canadians well for those four years."
CWO Jones passed away suddenly in May 2018. Lt.-Gen. Lamarre told the group, if CWO Jones had been there today, he would have been honoured to see them off.
"So, when you guys are over there, make sure you give a thought to Keith Jones and what he did for this program right here," Lt.-Gen. Lamarre continued.