HMCS Ville de Quebec reflects on Operation Reassurance 
The crew on HMCS Ville de Quebec are excited because they are almost home. The ship is currently returning from its mission with Operation Reassurance Maritime Task Force, in support of Standing NATO Maritime Group Two. 
Their main role was patrolling the Mediterranean, and keeping a vigilant eye on all that happened there, continuously monitoring what vessels were in the area, both civilian and military. 
The Ville de Quebec brought a very Canadian dynamic to the mission: while the operation itself is conducted in English, as all NATO operations are, the Ville de Quebec is a French unit, with approximately 40 per cent of crew speaking French as their first language.
Commander Scott Robinson, the commanding officer of HMCS Ville de Quebec said, "It was a privilege to lead such a fine ship."
When asked what some of the highlights of the deployment were, Commander Robinson commented that they had the honour of taking part in one of the largest NATO exercises that have happened in a long time. Off the coast of Norway, approximately 50,000 military personnel from Allied countries, including Navy, Air Force, and Army, met to conduct the exercises.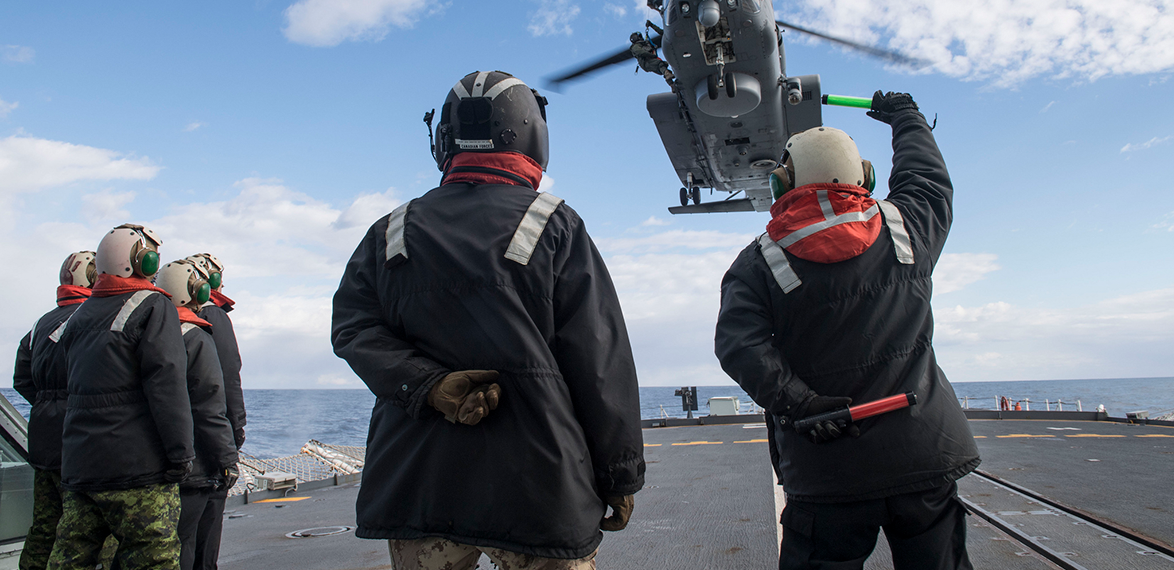 There was one aspect of this deployment that is a source of great pride for the crew of HMCS Ville de Quebec as it was the first time that the military's new helicopters, the CH148 Cyclones, were deployed in an operation. 
The helicopters are replacements for the Sea Kings the military used to use. The military has been testing the Cyclones for the past six years, which has included them being out to sea for a few weeks at a time, but this was their first time in an operation. 
Major Erik Weigelin said this first deployment went extremely well – the helicopters performed well, and they had a great group of technicians working with them. According to Major Weigelin, the Cyclones clocked about 500 hours of flying time on this mission. 
Even with their success with the new helicopters, there are always lessons to be learned. The crew from HMCS Ville de Quebec has been sharing their experience in order that the next ships deployed with Cyclones will be that much further ahead. 

Major Weigelin stated that it was a point of pride to be the first to use the Cyclones operationally.
When asked what was the biggest challenge they faced on this mission, both Commander Robinson and Major Weigelin stated it was being so far from their family and friends. There are many on the ship where this was their first deployment, and for others, it was the first deployment after having children. 
"It is really hard to miss out on all those firsts," said Commander Robinson, whose child just started kindergarten while he was deployed. Major Weigelin commented that it is hard to be away doing something he loves, but knowing how much work it is for his spouse back home with him gone. 
Commander Robinson commented that it can also be hard for military members to find a balance with work and personal time. The change of pace between working on a ship, then downtime at port can be difficult on deployment.
During the deployment, the ship had the pleasure of stopping at many interesting ports, some familiar on deployments and some unusual. Most memorable were the visits to Tunisia, Algeria, Egypt, and Israel.
Major Weigelin was impressed with the support the ship received from people back home. One event that stands out was over the holidays when the ship received bags of Christmas cards from school children across Canada.