Brigadier General Corbould takes command of Joint Personnel Support Unit
The Joint Personnel Support Unit (JPSU), designed to care for the ill and injured soldiers of the Canadian Armed Forces (CAF), is currently undergoing a major overhaul to address years of criticism. The major first step towards this overhaul is the incoming of the new Commanding Officer of JPSU, Brigadier General Dave Corbould.
"I'm very honoured and both excited to be assigned as Commanding Officer to JPSU.
"Like any organization, after eight years it needs some adjustments to the realities on the ground, and that's what I see as my role as incoming CO to reinforce the success of the JPSUs and all of the staff that supports the ill and injured across our country. That's what I see my role as in terms of rejuvenating and reinforcing their success," said Corbould, who officially took charge in a ceremony on Aug. 5.
This staffing change is expected to be a catalyst to further change down the line. Unlike previous COs of JPSU, Corbould's only responsibility will be towards JPSU.
"From a staffing perspective, we have 100 per cent extra attention," added Corbould.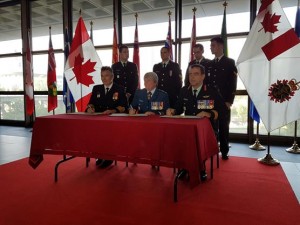 JPSU was established in 2008, to care for the influx of ill and injured soldiers from the War in Afghanistan. Since then, the unit has evolved to further incomes various services and nature of injuries treated.
However, over the years, the unit has received criticism for not being able to properly meet the needs of the ill and injured.
Last year, Gen. Jonathan Vance, Chief of the Defence Staff, ordered an internal review on the JPSU and the review confirmed that there were flaws in service delivery of the JPSU.
Corbould, along with Commander of Military Personnel Command, LGen. Christine Whitecross, will be looking into ways of restructuring JPSU according to the review's recommendations.
The restructure of JPSU will be along four lines of operation: command and control, personnel, medical services and policy.

Under command and control, JPSU will be restructured to be more command-centric to maintain critical members' affiliation to their commands, regiments or community and ensure their needs are met.
Currently, an additional review is being conducted to review personnel of JPSU, both military and civilian, to address the understaffing concerns.
In terms of medical services, JPSU plans to increase the number of case managers and the Return to Duty program will be reinforced with the addition of Occupational Therapists.
Lastly, policies will be amended to provide better care and support to the ill and injured of the CAF.
"A lot of the changes you're seeing, in terms of reinforcing resources, extra manning, are a result of the recommendations of that review. We are moving forward with a lot of those recommendations in a pragmatic measured way to make sure we don't shoot from the hip and make sure we are actually providing long-term, real results that better the support that we provide to our ill and injures soldiers," stated Corbould.
The JPSU also plans to add to resources such as buying vans to help transport CAF members to appointments.
The changes planned by JPSU will take place over a two-year span.
"To our ill and injured soldiers out there, it's all about providing the best possible care to each of them. We, at JPSU, enable that care. We're the one-stop-shop that helps link them in to whatever service, whether it's mental health, physical, with Veterans Affairs Canada or many other stakeholders, and getting them access to the care they need to either return to full duty or if it's their decision, and meets the requirement of the CAF, to move on to transition successfully to civilian life," said Corbould.