Keeping RMC Alumni Connected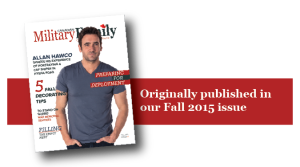 William Oliver's thirty-seven year career in the military is characterized by an outstanding list of achievements from coaching two national softball teams competing against the U.S. to being Director of Athletics at the Royal Military College (RMC). But one of Bill's most far-reaching accomplishments took roots ten years ago when he and his wife, Rolande, co-founded the RMC's e-Veritas magazine.
Oliver started his career in the Air Force as an Aircraftman second class (AC2) later meeting his wife Rolande as they both served as AC1's. With a passion for athletics, Oliver began working as a Physical Education Recreation Instructor from 1967 onwards. Through multiple postings and deployments, the Olivers were able to make a home out of Kingston and RMC when Bill was posted there towards the end of his career. He served as Director of Athletics from 1988-1991.
"I just loved my job and loved serving. It was like not going to work every day. My background was very athletic,"  explains Oliver.
A dedicated athlete, Oliver competed at the regional and national level for both hockey and softball during his time in uniform. Oliver's passion for sports and knack for winning not only led him to play on multiple national winning base teams but also coach and referee at the national level.  Oliver even had the opportunity to manage the national CAF softball team that competed against the U.S. multiple times.
"Most people who knew me would accuse me of being overly competitive, and I never denied that. I believed very strongly in playing in the confines of the rules. If we're going to take the time to compete, it's a whole lot more fun if you win…they're great memories for many years to come," chuckled Oliver.
One of those great memories is from 1967 when Oliver was not only on one but two national winning teams representing CFB Ottawa in hockey and softball.
Oliver hung up the uniform in 1995, but that didn't keep him on the bench for long. The next year he was asked by friend Andy Scott to assist in recruiting varsity hockey players for RMC. Thinking the job would be on a trial basis for one season, Oliver ended up working as a recruiter for seven years; not only recruiting for hockey but for all varsity teams at the college. But Oliver's involvement with the young athletes wasn't just limited to recruitment.
"My role was to teach and make sure that the student-athletes that they were recruiting knew what they were getting into. They weren't coming into the RMC to be hockey players first they were coming in to be military people and hockey was second…my main role was to educate the recruits in the ways of the RMC and the ways of the Canadian Forces making sure they knew what kind of a military occupation they were getting into, what their expectations were and what was going to happen to them once they left the RMC…my wife was involved too. Anytime we interacted with female potential athletes she had a very hands on role. Basically we treated each of those potential recruits how we'd want our kids to be treated," said Oliver.
Bill and Rolande's role as recruiters established lifelong bonds and connections that still stand today. And helping ex-cadets to stay connected to RMC was one of the main inspirations behind finding the e-Veritas electronic newsletter in 2005. Ten years and over 450 issues later, the e-Veritas has become the go-to source of news for ex-cadets, current RMC students, and their families.
"We were convinced back in 2005 there was enough stories out there with what was going on at the college and our main goal at that time was to be able to connect with our ex-cadets and we morphed into being a newsletter, a source of information for what was going on at the college.  Family and friends, especially when first-year cadets come in, can't say enough good things about it. Family and friends love getting the news and especially seeing photos of their sons and daughters and so on," noted Oliver.

With over 60,000 hits on the website during the school year, Bill and Rolande run the newsletter themselves mostly from their kitchen. Often putting more than 70 hours a week into the newsletter, Rolande focuses on proofreading and translating while Bill manages content, style, and layout. Bill acknowledges his wife plays a huge role, not just in the newsletter, saying it's "a 50/50 deal for sure."
During the school year, the couple also receives help from student volunteers. One volunteer that has worked with the Olivers for several years now is Victoria Edwards, who Oliver attributes as an important member of the e-Veritas team.
The team works hard to find original stories with the motto of only publishing newsworthy content.
"Our principal is an issue will not go out unless we are satisfied that it's newsworthy. We aren't mandated to do an 'X' amount of issues. So, if the time comes to send it out and we say jeepers we don't have that much there we don't invent stuff," said Oliver.
Though Oliver doesn't have any formal background in journalism, he didn't find the start up of the newsletter difficult. The only challenge he's faced is coming up with enough French content which he throws back to his readers encouraging them to contribute content in both French and English.
Running the e-Veritas has become a hobby for Oliver, and he looks forward to every issue. With a competitive spirit, he is challenging himself to publish enough issues to reach 500 this year.
"Here's a question I got asked a lot: 'Hey you've done way over 400 issues what's the best issue you've ever done?' and you know what the answer to that is? It's the one we're working on right now, and that's what motivates us and we are very sincere when we say that," noted Oliver.