Hitting the Slopes with the Canadian Association for Disabled Skiing (CADS)
This year marked the first time I had the opportunity to attend the Canadian Association for Disabled Skiing (CADS) annual Winter Sport Clinic in the Ottawa Valley.
Set in the picturesque Calabogie Peaks, the weeklong clinic was sponsored by CADS National Capital Division (NCD). The clinic provided retired and serving members the opportunity to hit the slopes and try alpine skiing in a comfortable and relaxing environment. Participants could use any one of the organization's adaptive ski equipment.
Dan Fleming, director ski operations for CADS-NCD explained the non-profit volunteer organization's mission is to promote alpine skiing and snowboarding for persons with a physical or non-physical disability. For the Winter Sports Clinic, "Our intent is to inspire our wounded service members and veterans to overcome obstacles in their lives, both physical and psychological, and include the family unit in the opportunity. The clinic is open to present and past service members."
Whether the military personnel were injured in the line of duty or from an injury that occurred during his or her career the 12 military personnel, some with their family members, spent their days on and off the slopes. There were other activities in addition to skiing planned as well. The event is funded by a variety of groups who sponsored the event so there is no cost for participants.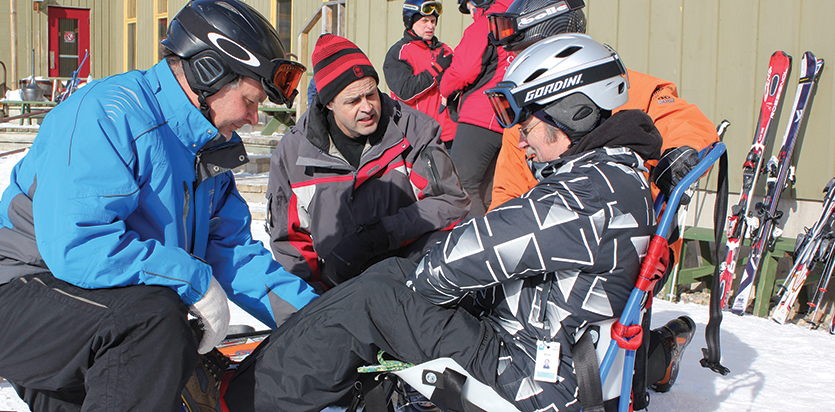 Fleming noted, "We fundraise separately from other military organizations to continue what has become a proven and popular activity that enhances confidence and shows that 'if you can conquer a mountain, you can do anything you set your mind to.'"
CADS has hosted fourteen winter clinics across the country from Mount Washington to Nova Scotia. Since 2008 the clinics have provided instruction to approximately 150 Canadian Armed Forces members and veterans, as well as American and Australian military veterans.
Although I didn't take in any of the runs, I did have the opportunity to chat with some of the participants about the clinic and what it meant to them. During lunch one retired member confided he hadn't smiled so much in a long time, sharing how his mental health had held him hostage, but credited his spouse for her unwavering support and opportunities like CADS Winter Sports Clinic for helping him heal.

The day I attended, the Chief of Defence Staff (CDS) General Tom Lawson was on hand to meet with the military members and take a few runs down the hill. He even tried the sit-ski where he took in a run with CAF veteran Brian Peckover, who was also in a sit-ski.
It was great to see so many smiles on the slopes. With fresh air, the bright sunshine and clear blue skies, how could you not have a good time.
For anyone interested in attending next year's clinic visit CADS for more information.
**This article was originally published in our March 2014 Issue.**
Get More! Receive six issues of Canadian Military Family Magazine in your mail box for only $17.95! Click here to subscribe NOW!